Nintendo 64 is a smashing console. The graphics are pretty good and the game play is better.
Have you ever tried the Top Gear Overdrive game, its great. You can surf the net for cheats and use them to get hot cars like the Maclaren F1, Ferrari, Porshe and the Dodge Viper. And belive it or not there is also a tv show called Top Gear it also features amazing cars like these.
The most fun games are Mario Kart, Super Mario 64 and Super Smash Bros. In Mario Kart I always get 1st place, it is a very fun game with a selection of players, tracks and weapons. Super Mario is a game focused at Mario's adventures, battles with bowser and his love with princess peach. Super Smash Bros is an entertaining fighting game which you can play for hours without stopping. It has a range of charcters, weapons, moves, stadiums and playing modes.
I love my old Nintendo console and I have 21 priceless games to play with.
By Lucky (admin's little brother)
Super Mario 64: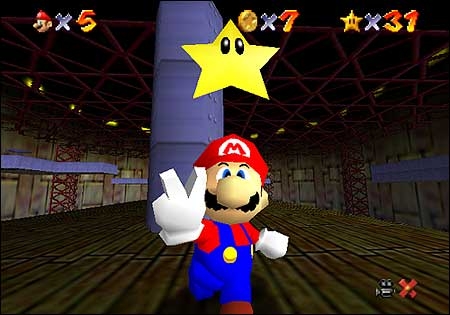 Inspect A Gaget